x100
3475
Новости
Project Euro-PvP.com - interesting game process and really high quality platform on all servers in the complex, we work for you, the project is developing day by day and reaches heights.
Opening the server 23rd January at 17.30 GMT!
Running OBT - 17th January at 17.00 GMT!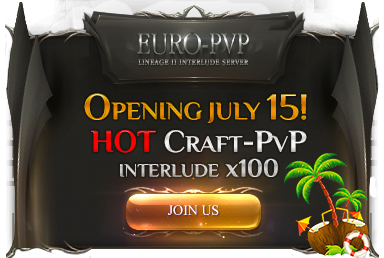 What awaits you on the OBT:
The maximum level at the start!
Free Coin of Luck \ Euro coins!
Olympics 24 \ 7!
Heroes every day!
OBT online at 600+ people!
Dear players! There comes a moment when the server crashes online, we do not want to do a wipe. We promise you a long and stable game - and keep our word! What would you raise online on both servers and server attract new players, we have decided to make traditseonnoe unification 2015x and 1200x servers!
Download the new patch (Without it will not let the game)!
1200x & 2015x server will be launched on 15th of January at 20.00 Moscow time!
Why is this being done and what are the pros?
Online server significantly grow up!
Updated gameplay - which is very good for the game!
New players - which quickly catch up with old people!
Working without a wipe!
What will happen after the merger?
All your characters \ Items \ Heroes remain!
Castles are reset - the siege would be appointed to the weekend!
Players who are duplicated nicks prefixed _1200 and free nick change.
Updated respawn all epic bosses!
Project Euro-PVP.Ru - interesting game process and the really high-quality platform for all servers of the complex, we work for you, the project is developing day by day and reaches a certain height. Server of our project will bring you (the players) only joy and positive emotions. Best 100x, Mad 1200x - server for every taste.